Jean Fitzpatrick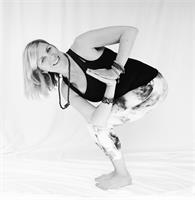 FAVORITE QUOTE: "Our deepest fear is no that we are inadequate, our deepest fear is that we are powerful beyond measure. It is our light, not our darkness that frightens us." - Marianne Williamson
"Authenticity is the daily practice of letting go of who we think we're supposed to be and embracing who we are." - Brene Brown
FUN FACT: "I took voice lessons for years and still rarely sing in front of others - I secretly fantasize about getting pulled on stage during a concert to sing lol!"
At one point in my life I was a professional organizer coaching people to clear clutter from their lives - now I do that through yoga!"
UNFORGETTABLE EXPERIENCE: "Laying down on the cliffs of Moher in Ireland...truly amazing!"
DEEPEST GOAL: "To be a true and amazing example, an inspiration to my children and others and to make a difference in this life...to create a ripple effect."
FAVORITE TEACHING METHOD: "I love bringing spiritual readings, quotes, experiences into my asana teaching. I am inspired and fulfilled by others who do this for me. It always feels like a gift and I want to pass this gift along to my students."
Jean Fitzpatrick instructs the following:
A solid Power Vinyasa Yoga practice that is designed to build strength, flexibility, balance, endurance, and stamina. This energetic and powerful style of yoga will flow you from pose to pose while connecting your breathing with your movements. This class will zone you in on your practice, exercising both your mind and body. If you're ready for a vitality boosting workout that gently winds down into relaxation… Then you can add House Flow to your regularly prescribed dosage for mental and physical happiness.