Christa Lapinig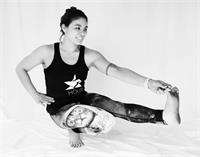 FAVORITE QUOTE:
"Be the change you wish to see in the world." - Mahatma Gandhi
FUN FACT: "Chatarangas used to be my greatest enemy. Or maybe when I was 19 and in college and told I was getting deployed to Iraq but was totally ecstatic about it because I was flunking out of NJIT anyway. But when I got back home I no longer took school for granted and rocked it by graduating cum laude."
MOST EMBARASSING YOGA MOMENT:
"Probably during my yoga teacher training when I shared that I used to call the middle part my chest my scrotum instead of my sternum.
And probably all the times I slur my words while teaching class and pretend I make perfect sense. Or maybe that one time I farted. Who knows, I lost count."
DESCRIBE YOUR YOGA STYLE AND TEACHING BACKGROUND: "Power vinyasa all the way with a touch of calm and ease, a dash of Army, a spritz of zen, a shower of empowerment, and a dollop of tea tree oil. I graduated with my 200hour certification from the awesome HYRTT in Garwood in 2014 - a Baptiste-style hot vinyasa methodology. In 2015, certified with Kidding Around Yoga in NYC to teach those good ole youngins, prenatal certified in 2016, and Reiki Master 2017. And lastly, I'm a Registered Yoga Teacher (RYT) through Yoga Alliance and continuing my studies with Yoga Journal Business of Yoga, and continuous self-study to keep things hot and fresh."
Christa Lapinig instructs the following:
A good House Flow needs a good foundation. Get down with proper alignment, rotations, posture, and some good ole interesting and useful information about each pose. At a tad slower pace, House Flow Basic will cover the nitty gritty details.




You're not in the Amazon or the Congo… but we'll make it feel like you are. In a heated room ranging from 85-95 degrees with 40% humidity, you're in for a swim! All the benefits of House Flow, but with more. The heat helps you reach new levels of flexibility, using breath as a way to manage your temperature, endurance, and control, intensifying your cardio, detoxing the crap out of your muscles, organs, and glands through sweat, all the while challenging your focus even further. We have towels ready for you to catch all those calories you'll burn. Heat therapy baby.




A solid Power Vinyasa Yoga practice that is designed to build strength, flexibility, balance, endurance, and stamina. This energetic and powerful style of yoga will flow you from pose to pose while connecting your breathing with your movements. This class will zone you in on your practice, exercising both your mind and body. If you're ready for a vitality boosting workout that gently winds down into relaxation… Then you can add House Flow to your regularly prescribed dosage for mental and physical happiness.




Join House Yoga at Echo Lake Park, Wednesday, July 5th @ 630PM for the Union County Summer Arts Festival, Yoga in the Park & Concert Series!

Class is free!!!